The Map » Cylinder Characteristics
A Cylinder's shape and color will change depending on various factors. The Cylinder's characteristics are illustrated in the example below.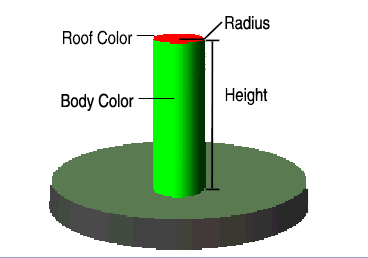 Cylinder Characteristics
The factors that control the change in a cylinder's characteristics are known as Measurements. The color of the plate is also controlled by a Measurement.
---
Securities products and services offered by Transcend Capital LLC a registered Broker Dealer, Member FINRA/SIPC.
6500 River Place Blvd., Bldg. 4, Ste. 102, Austin, TX 78730. 512-623-7774
Access to electronic services may be limited or unavailable during periods of peak demand, market volatility,
systems upgrades or maintenance, or for other reasons. Symbols, prices, groups and industries are used
for illustrative purposes only and do not constitute a recommendation.